PM Narendra Modi Mann Ki Baat Today Live Updates: Prime Minister Narendra Modi on Sunday paid tributes to the 20 Indian soldiers who had died in the violent clashes with Chinese troops on June 15 in Galwan Valley and asserted that India had given a befitting reply to those who cast an evil eye on its territory.
While addressing the nation during his monthly radio show Mann ki Baat, Modi said: "Those who cast an evil eye on Indian soil in Ladakh have got a befitting response. India honours the spirit of friendship… she is also capable of giving an appropriate response to any adversary, without shying away. Our brave soldiers have proven that they will not let anyone cast an evil eye on the glory and honour of Mother India."
The Prime Minister also said that the "entire country comes together in paying tributes to the bravery of our soldiers who attained martyrdom in Ladakh" and added that "the entire country bows them in reverence, with gratitude".
Meanwhile, along the LAC, China continues to consolidate its positions in the faceoff with Indian soldiers on the north bank of Pangong Tso in Ladakh, but the first signs of tension in the area emerged last September, days after the government announced abrogation of Article 370 in Jammu and Kashmir and creation of Ladakh as a separate Union Territory.
"Today, we remember a great son of India, our former PM Shri Narasimha Rao Ji. He led India at a very crucial time in our history. He was a great political leader and was a scholar," the prime minister said. He added: "Narasimha Rao belonged to a humble background. He fought injustice from a very young age. I hope many more Indians will read more about our former prime minister."
"I have been seeing that people are writing to me, especially youngsters, about how they are playing traditional indoor games. I have an appeal to friends and start-ups: Can we make tradiitional games popular? I ask the elders that if you do not promote such traditional games, then who will?" the prime minister said.
"India is unlocking, be it in sectors like coal, space, agriculture and more. It is time for us to work together to make India self-reliant and technologically advanced," Modi said.
Speaking on the pandemic situation, PM Modi said: "We are in the time of unlock. But, we have to be even more careful. If you do not wear masks and do not maintain social distancing, then you might put other's lives at risk as well. Take care of yourselves as well as others."
"India bows to our martyrs. They have always kept India safe. Their valour will always be remembered. The world has seen India's strength and our commitment to peace," Modi said. He added: "People from all over India are writing, reiterating their support to the movement to make India self-reliant. Being vocal about local is a great service to the nation."
"In Ladakh, we have given a befitting reply to those who tried to enter our territory, Our soldiers have proven that they will not let any trouble overcome the country. Every citizen can feel the loss (of soldiers) at the border. But this is our strength. The parents of the deceased are still ready to send them to the forces," Modi said while speaking on the Galwan standoff.
Addressing the citizens, PM Modi said: "Half the year is over. On Mann Ki Baat, we have been discussing a wide range of topics. These days, people are commonly talking about one thing- when will 2020 end. They feel it has been a year of many challenges. There could be any number of challenges but our history shows that we have always overcome them. We have emerged stronger after challenges."
Prime Minister Shri @narendramodi's #MannKiBaat with the Nation, June 2020. https://t.co/zfDOQQTaCu
Prime Minister Narendra Modi will address the nation at 11 am today via his monthly radio programme Mann ki Baat. The coronavirus pandemic in the country and the present border dispute with China along the Line of Actual Control (LAC) are likely to be the focus of the programme. Follow our blog for all the latest updates.
Tune in to PM Shri @narendramodi's #MannKiBaat program at 11 am on 28 June 2020.
Listen LIVE at
• https://t.co/vpP0MInUi4
• https://t.co/KrGm5idRUX
• https://t.co/lcXkSnNPDn
• https://t.co/jtwD1z6SKE pic.twitter.com/oXblkWbhga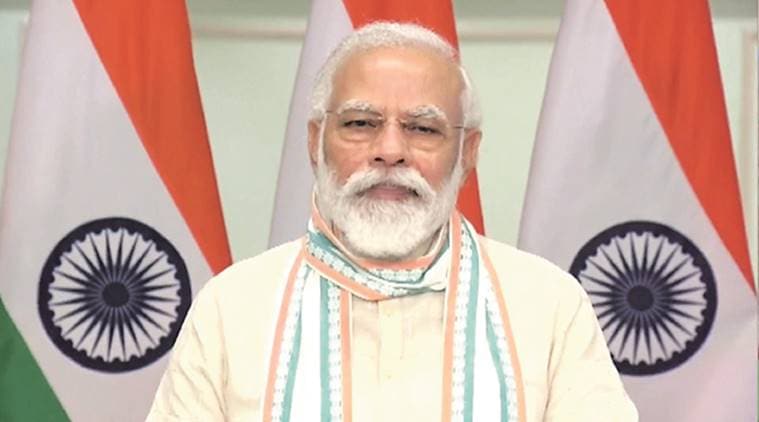 Prime Minister Narendra Modi during his monthly address to the nation.
In his last programme, Prime Minister Narendra Modi had asked people to be extra vigilant and take precautions such as wearing masks and maintaining social distance as a major chunk of the economy has opened up.
Highlighting the railways' exercise to transport migrants to their homes, Modi said that everyone is working hard to help them. He added that rail and air traffic are being partially resumed and will be scaled up in the coming days. "Our railway personnel are at it day and night. From the centre, states, to local governance bodies, everybody is toiling around the clock. The way our railway personnel are relentlessly engaged, they too are frontline corona warriors," he said.
PM Modi said that the current scenario is an "eye opener to happening in the past" in the country. "The distress the workforce is undergoing is representative of that of the country's eastern region," he said, adding, "The very region which possesses the capacity to be the country's growth engine… the eastern region needs development."