Already a member? Log in.




Not a member? Sign up!
Cities
Topics
Projects
Culinary Walks |
Explore our Food Tours →
This was a topsy turvy year for Istanbul's restaurant scene, as the first six months of 2021 were marked by a series of pandemic restrictions and lockdowns that made for slow business, while a grand reopening of sorts on July 1 resulted in thousands of people flocking back to their favorite restaurants and bars, some of which had been fully closed since March 2020.
During the second half of the year, a pulsating energy hummed throughout the city, establishments were packed to the gills and it became impossible to catch a taxi home on a Saturday night. Istanbulites seemed to be going out and enjoying themselves as much as possible in the event that they might not be allowed to the next week. For our Best Bites of 2021, we each chose an Istanbul classic, a modern favorite and an exciting new addition to the city's culinary scene, all of which have rolled with the pandemic punches.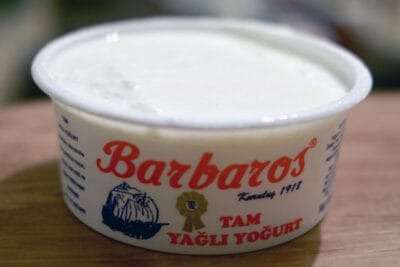 Barbaros Yoğurtçusu
Barbaros Yoğurtçusu in the heart of the Fatih district has churned out some of the city's finest dairy products since the Kurap family, immigrants to Istanbul from Albania, opened up shop in 1918. Now in its third generation, the Kurap brothers are among the final torchbearers of the Balkan dairy producer tradition that was once a fixture in Istanbul. Their divine yogurt, produced in the grasslands at the far-flung western end of Istanbul province, is so good that we had no qualms about describing it as sexy and tantalizing. A bowl of this yogurt on its own for breakfast is enough to provide bounce in my step and strength to confront the day. Sadly, the Kurap brothers may be the last generation in the family to run the business, and unfavorable climate conditions make small-scale dairy production increasingly difficult in Turkey, so while Barbaros may continue to flourish during the pandemic, it's not wise to assume they will be there forever.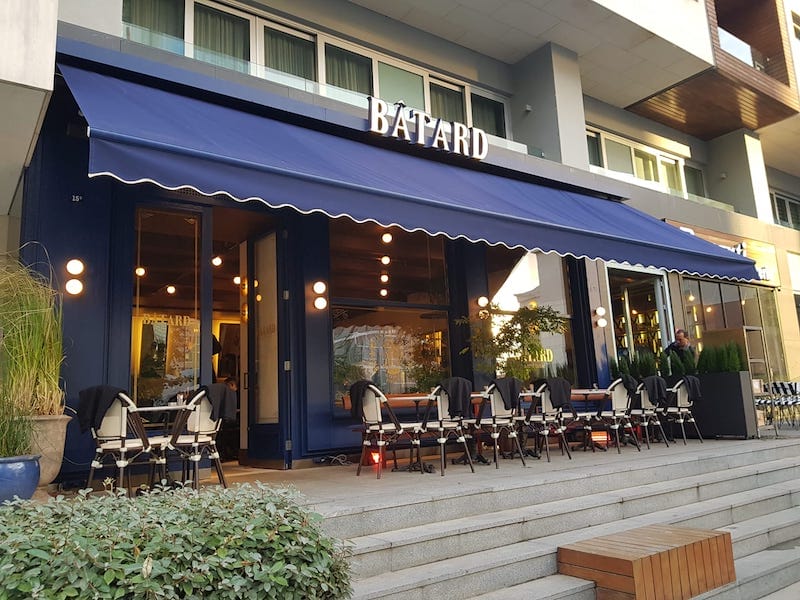 Batard
Bomonti's Batard made my list in 2018 and it is back once again. I've remained impressed at how the elegantly-designed restaurant – equal parts chic and casual and decorated with French touches– offers such high-quality, refined food at comparatively low prices while the staff is always friendly and attentive. Lingering on the tip of my tongue is a glorious dish of organic grilled chicken served over oyster mushrooms, chestnuts, lemon aioli and salsa verde that was harmonious and memorable. Batard has gathered a serious following in the few years since it has been open and navigated the troubled waters of the pandemic as a result. Featuring tried and true menus that are not excessively updated, Batard might also be the only eatery in Istanbul serving fried chicken and waffles. Spoiler: They're great.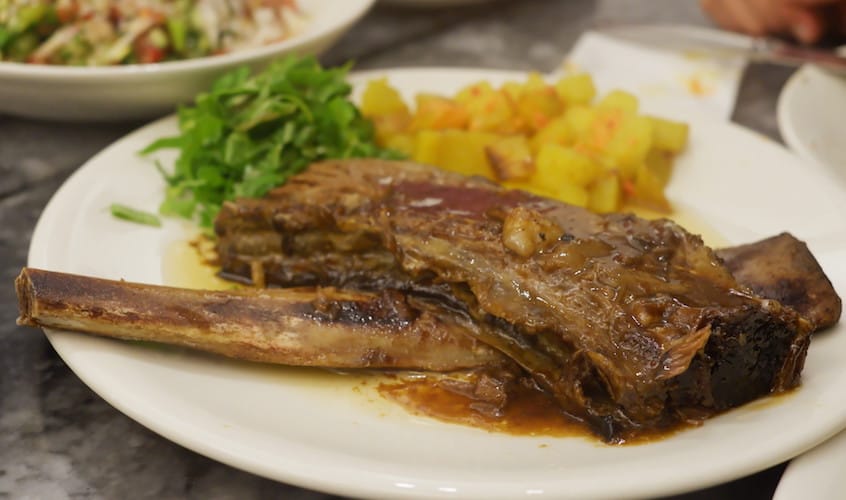 Marinee Kaburga
Chef Mari Esgici's new restaurant Marinee is a welcomed arrival to Kurtuluş, where new restaurants, bars and cafes continue to pop up left and right in defiance of the country's deepening economic crisis. With half a dozen or so tables and around the same number of menu items, Marinee keeps it to the point – and the point is the succulent, slow-cooked ribs, which are served on the bone and threaten to separate from it with a mere prod of the fork. Alongside are equally thoughtful baked cubes of potato under salsa roja and a salad of parsley or arugula dressed in sour cherry liqueur sauce. While the restaurant, unassumingly tucked into a ground floor on Baruthane Caddesi, might be small and cozy, Marinee's flavors are as bold and vibrant as Chef Mari's ebullient personality. It is yet another reason to come to Kurtuluş, or in my case, one more reason why I don't have to leave the neighborhood. Keep an eye peeled for a full review in the new year.
-Paul Benjamin Osterlund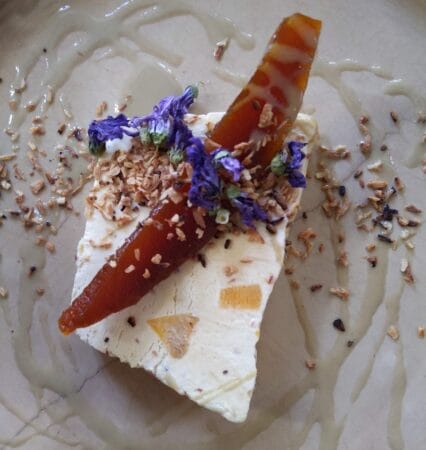 Smelt & Co.
We'd survived a three-week total lockdown in May, pulling fruit from a citrus tree out front and amusing ourselves by creating a new lemon-based ice cream each day (the best was fig, balsamic and süzme yogurt). We were vaccinated, but it was looking like another year of canceled birthday parties, endless takeaway coffees and hours of experimenting in the kitchen between Zoom meetings. But spring shimmied in fashionably late, with summer trailing close behind, and suddenly anywhere signaling "bahçemiz var" (we have a garden) was thrumming with people. We took any outdoor space we could, snagging Gelateria Bonacci's kadayif gelato or Muammer Usta's kelle söğüş and sitting on curbs and staircases. Then Smelt & Co. opened its terrace seating, and we tentatively dipped our toes into eating out with friends once more.
In a lovingly restored building tucked away on a hill in Balat, Smelt & Co. was started in 2019 by Sinan Bakkaloğlu, a Turkish chef who has Noma in Copenhagen on his resume. He and his partner wanted to get experimental with classic Turkish foods, and when they started they would each switch out cooking and serving every night. They are both as warm and welcoming as their dishes, all begging to be sampled with unique – and, I daresay, unusual – flavor combinations, especially for the Turkish palate.
Istanbulites seemed to be going out and enjoying themselves as much as possible in the event that they might not be allowed to the next week.
Their seasonal menu is like nothing I've seen before in Istanbul, with little homages to traditional or familiar dishes, from the drinks (kombucha-based cocktails with rose and sumac) down to the desserts (sour cherry chocolate mousse with nori flakes). One glorious spring day, we had a dish of levrek (sea bass) with beets, pickled hibiscus, wild kekik (oregano) and fındık (hazlenut), another of garlic and sage pilaki (white bean) with olives and tulum cheese, as well as a candied pumpkin and sesame semifreddo. Each bite is like being at an unexpected and intimate art show, mind-blowing and something you will think about for months to come.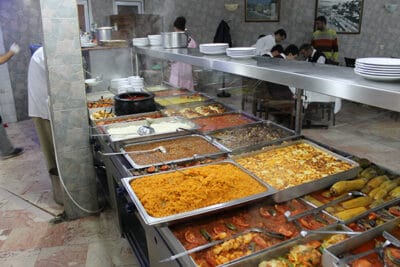 Öz Bolu Lokantası
After six years in Beşiktaş, this turbulent year of rising rents and too much time at home had me moving across the Bosphorus to Üsküdar. Quieter, cheaper and with a beautifully accessible seaside, the only thing missing are my go-to haunts like the modern esnaf lokantasi Elde Borek and neighborhood watering hole Abbas. But a district like Üsküdar, with its crumbling staircases, Oriental-chic chocolate shops and conservative reputation, is rife with traditional restaurants and no-frills kebab joints.
Öz Bolu Lokantası is one such place, serving a variety of kebabs and sulu yemek (stew-like dishes) from behind a glass counter. We first heard about it on our inaugural night out as Asian siders, during a last stop in Kadıköy at Fahri Konsolos. "I miss living in Üsküdar. I still go to Öz Bolu at least twice a week," our new friend Tolga tells us, enthusiastically explaining its location between the traditional spice shop and cartoon socks seller in the neighborhood's Balıkçılar Çarşısı. The unassuming restaurant has been in this spot just shy of 25 years, run by the expert hand of Cafer Özadalı, who hails from Adıyaman.
The patlıcanlı kebap – simple, baked eggplant halves served with a side of stewed lamb – is esnaf lokantası (tradesmen restaurant) fare at its finest. The silky eggplant melts on the tongue, having soaked up the flavors of the perfectly cooked, juicy lamb stew. It overshadows everything else on the table – and everything else I'd eaten that week. That is, until the kabak tatlisi arrives. Soft but not overcooked, the pumpkin dessert is rich and weighty. All of the sweetness seems to come from the squash itself, and the mandatory tahini dressing balances any additional sugar. The dusting of crushed walnuts gives the plate the right crunch. We order another. Welcome to Üsküdar.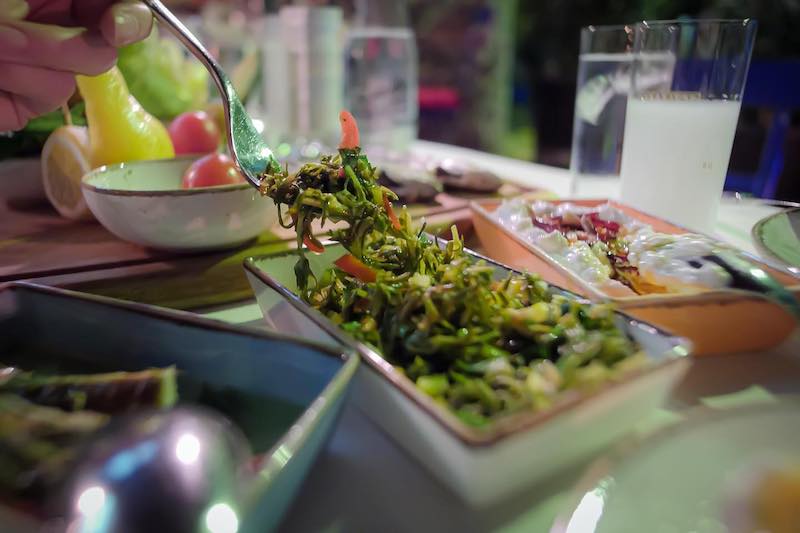 Mahkeme Lokantası
On a particularly hot and sticky evening in July, a trademark of Istanbul summer, getting on the metro after a gut-bustingly divine dinner at Salloura seemed like the wrong decision. So my partner and I decided to avoid a raucous birthday invite by walking the six kilometers to Taksim – a new and addictive post-lockdown habit – and arriving late. Our mission, get across the Golden Horn without consulting Google Maps.
We wound through the small, dark streets of Fatih into Vefa, and eventually made it over the Atatürk Bridge and into Karaköy. Not quite ready to face the lights of the main street, we meandered past the quiet, industrial store fronts of Perşembe Pazarı. As we curved uphill, the chime of voices raised in good spirits drifted in from what seemed like an alley. Without thinking, our feet turned, and as the alley grew less and less dim, we pushed past a wall of potted trees and were suddenly bathed in warm light. The street was full of tables, diners şerefe-ing glasses of cloudy rakı, plates laden with mezes and hearts seemingly unburdened. It felt like there was a vacuum of sound for a split second, as if we'd walked onto a movie set and everyone was merely miming these simple acts of revelry, impossible to witness only months ago. The noise came rushing back, and we were reeled into the charm of Mahkeme Lokantası.
The meyhane, which takes its name from the old Genoese Court building across the sliver of a street, is housed in an impressively restored 1840s inn. With all its grandeur, the convivial environment brings it down to earth, and the food is just as irresistible as the welcoming vibe. Not a single meze disappointed, but the extra-garlicky deniz börülcesi (samphire) had just the right blend of lemon and olive oil. Even better, I once more have a favorite place for grilled octopus after the long-ago closing of Sıdıka. Each bite of the elegantly seared, meaty – not chewy – ahtapot brings a hint of charcoal to the tongue. Finally, even if Mahkeme's version of ceviche wasn't already excellent, their addition of cilantro, an herb rarely utilized in Istanbul, had me feeling deeply nostalgic for the tastes of my mother's kitchen.
-Tas Anjarwalla
Published on December 28, 2021
loading map – please wait…