Already a member? Log in.




Not a member? Sign up!
Cities
Topics
Projects
Culinary Walks |
Explore our Food Tours →
Neapolitan restaurateurs hit the restart button in the year 2021. Dining has adapted to the new rules brought on by the Covid-19 pandemic – but at least we can say, at last, that we are back to having lunch in a restaurant. I missed sharing the experience of the restaurant so much. Sitting next to a stranger and breaking bread together. Making new friends and meeting old ones. Socializing.
The trattorias and cafeterias where moments like these are possible are the places I pray for each night. That they will survive another month, another possible lockdown. Watching some of these close was a very hard blow, but there is something in the air again, something starting up. Naples is once again filled with tourists and there is a need, an urge, to be social once more.
We are calling it the "new normal," and with it, we've seen two changes in particular take over   the Neapolitan restaurant scene: 1) The delivery phenomenon, which in Naples has always been limited, has hit almost all Neapolitan restaurants and trattorias, and 2) Accepting digital or card payments is now widespread. Even the smallest operators have had to adapt, and there has been a need to limit the movement of cash through hands. This new normal didn't change too much of how we explore our city, however, and we made some delicious discoveries this year.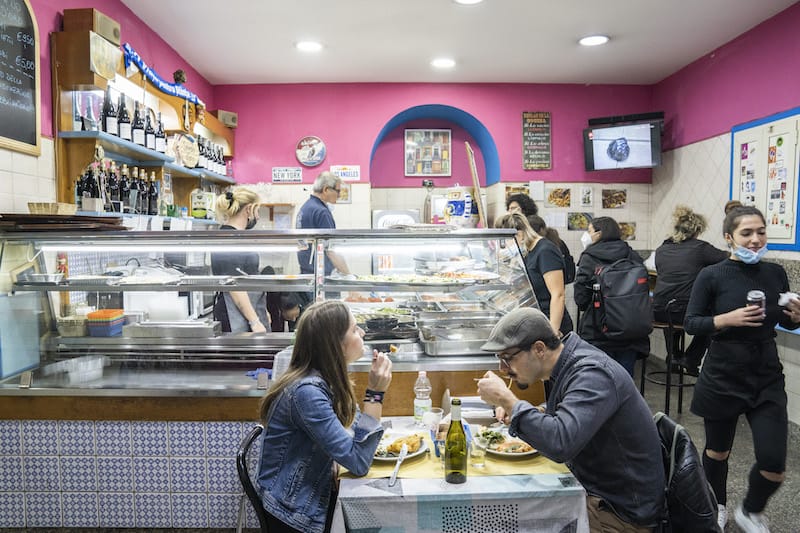 Spiedo d'Oro
We are off of Spaccanapoli St., the most famous in Naples, but there are few who venture this far up. Here, off the beaten path, we are very close to the Montesanto market, one of the liveliest in the city. A no-frills diner with a few spartan tables, Spiedo d'Oro is definitely one of the most "backstreets" places we became acquainted with in 2021.
When we walk inside, the owner Vincenzo Monzo greets us and prepares a tray with bread and cutlery. Making conversation, we point at what we want for lunch, which is all on display in the glass-lined counter. Enzo portions it all out as we choose one of the half-dozen tables inside, opting for the post-lockdown luxury of eating indoors while others enjoy the wonderful and eternal Neapolitan spring-like weather at the tables outside.
As we dine, Enzo tells us about the friends and lovers – many of whom are regulars – he has watched meet in his restaurant. Here is one of those places that makes it in our prayers: one where you stand side by side with an unknown person, eating delicious things. Some of our favorites are the gnocchi alla sorrentina (tomatoes and mozzarella), rigatoni alla Genovese and salsicce e friarielli (sausage and broccoletti). Usually open for lunch, Vincenzo offers a special invite to those in the know on Friday evenings: After 8pm, he serves typical Neapolitan aperitifs. A great start to a great night.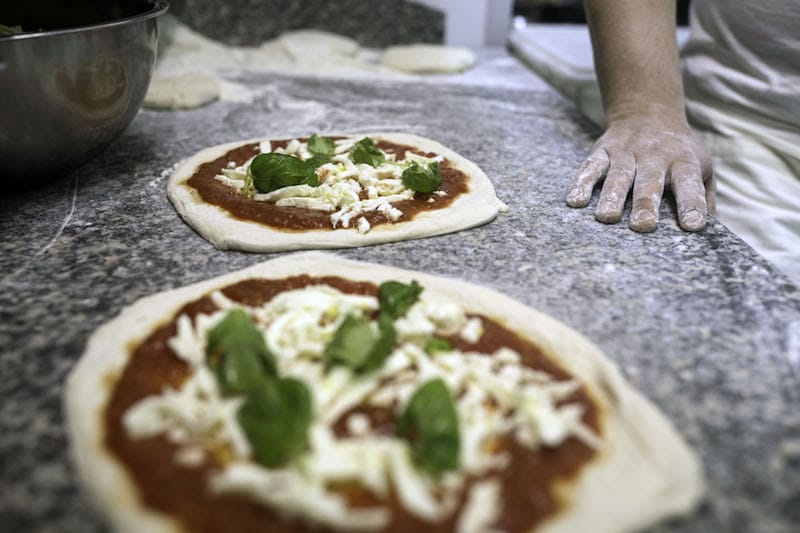 Brandi Pizzeria
Why is the most famous pizza in the world called "Margherita" pizza? To understand this, you have to go to Brandi Pizzeria on the corner of via Chiaia. There, you can read its legendary tale in creating this world-standard pizza of tomato, mozzarella and basil – and get a taste of it as well.
If the taste has to wait, then we can share some of that story, which has been handed down for generations: The year is 1889. Pizzaiolo Raffaele Esposito is running Brandi Pizzeria and the Savoy royals are in Naples. Queen Margherita is staying in the palace of Capodimonte, and one day she expresses the desire to taste "the famous Neapolitan pizza." (The legend would have it that she had tired of the stuffy French food being served at court.) A royal house official invites Raffaele to present the Queen of Savoy with pizzas to try. He makes three types: a white one with oil, cheese and basil; one with small cecenielle (whitebait); and one with the tri colors of the Italian flag, white mozzarella, green basil and red tomato. The queen preferred the third and, so, the Margherita pizza was born.
Here at Brandi, it is always a pleasure to take a bite out history. Even still, more than 130 years later, it is one of the best in town.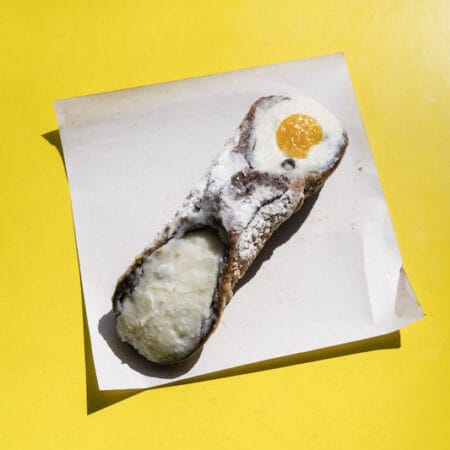 Dolcezze Siciliane di Busiello
In Sicily, cannoli are a true religion, and Sicilians have their own rituals relating to raw materials, frying and filling techniques, precise handwork and perhaps even spells and superstitions. Everyone on the island has their favorite cannolo, made by their trusted pastry chef. Cannoli is considered to be the perfection of Sicilian pastry.
Now, how to eat a real, fresh Sicilian cannoli in Naples? First, make room for a cannoli breakfast. Second, arrive at the Port of Naples at 6:30am. Third, head to Dolcezze Siciliane di Busiello. It is here that the owner thought up the simple but brilliant idea to have fresh Sicilian cannoli shipped on the postale (mail ship) from Palermo at 9pm, and to pick it up when it arrives at the Port of Naples at dawn. In 1996, Crescenzo Busiello (now 83) opened his small store within the port, when demand from friends and family for his shipped cannoli became too high. Nothing is produced on site; everything arrives fresh every morning.
The cannoli are coated inside with chocolate to prevent the ricotta filling from making the shells spongy during their time in transit. We love coming here to grab real-deal cannoli, and they've also started selling original Sicilian arancini, which they fry up inside. Another unexpected breakfast addition, it seems.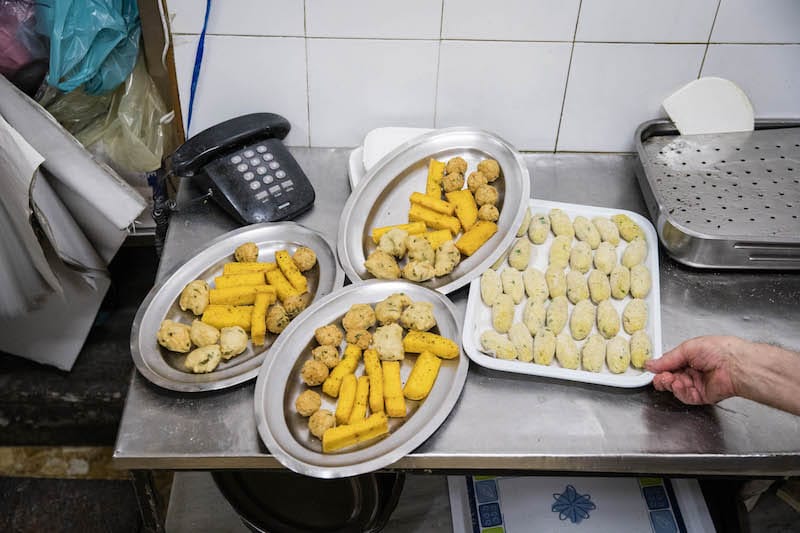 Pizzeria Trattoria Prigiobbo 
In the heart of the Quartieri Spagnoli (Spanish Quarters) are two brothers, pizza chefs Ciro (79) and Gennaro (76) Prigiobbo. They have been in the pizza business for a lifetime.
While they didn't invent the pizza Margherita, they run a pizzeria that has been declared a place of historical importance by the Municipality of Naples. In fact, everything inside their pizza shop looks just as it would have 100 years ago. Forget those pizza chefs who have become TV stars. Away from the media spotlight, the brothers Prigiobbo make pizza in the simplest and most ancient way, as pizza should be.
There is something in the air again, something starting up. Naples is once again filled with tourists and there is a need, an urge, to be social once more.
At the table, as is the Neapolitan tradition, the pizza is preceded by a very fresh, hand-made fritturina, the real specialty of the restaurant and the most-loved by all customers. The so-called Italian style fry (frittura all'Italiana) includes hand-made potato croquettes, extraordinary rice balls, meatballs with broccoli, eggplant or other vegetables, all served in the classic steel trays of old. After the fry, comes a truly great Neapolitan pizza, and one we keep coming back to again and again.


Lazzarelle Bistrot 
A small bistro inside the Galleria Principe di Napoli, right between the National Archaeological Museum and the Academy of Fine Arts, has its tables outside its storefront, under the beautiful glass ceiling of the gallery. Sitting here is a real pleasure for the eyes and the stomach, especially after weeks and weeks stuck indoors.
At Lazzarelle Bistrot, the coffee is roasted by a cooperative operating in a women's prison outside of Naples. Here, each sip lets you became part of a social project of great importance. The café is a tasteful space, created to help the reintegration of women prisoners into society. On top of its social justice messaging, the strong point of the coffee shop remains the coffee, served in colorful, handcrafted cups. There are also delicious cakes and wonderful sweets to make an excellent breakfast or aperitif, as well as salad bowls with ingredients like rice, almonds and tuna, which are prepared on the spot.
In short, you will eat and drink well, be in the middle of the city's history and participate in an important social project. What more could we want in a well-deserved day outdoors in Naples, after so many stuck inside in 2020?
loading map – please wait…